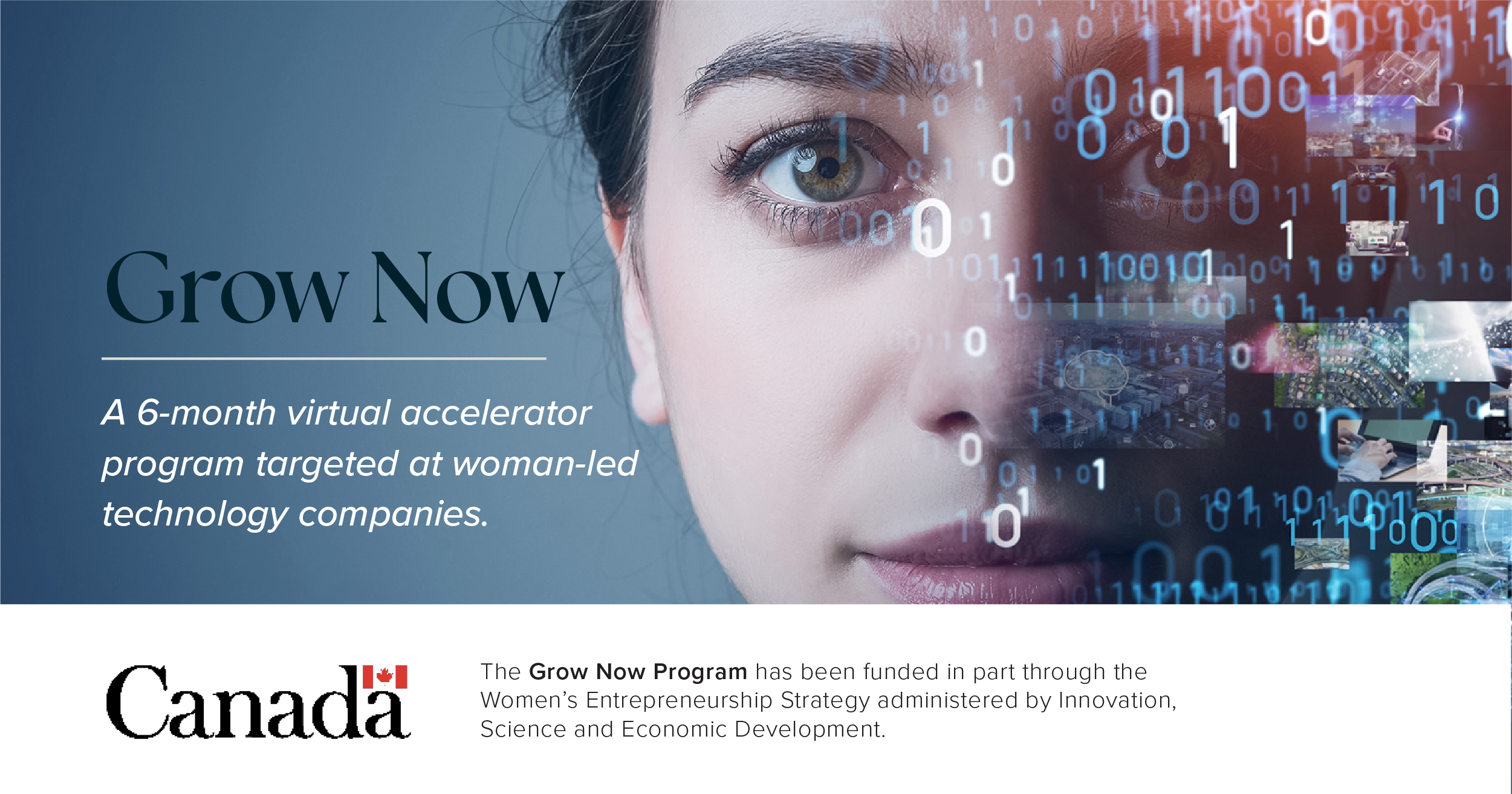 Grow Now
Grow now is a
v
irtual i
ncubator
for women-led e
arly-stage t
ech
startups
in Canada.
Grow Now is a 100% virtual incubator specifically designed for women-led technology companies based in Canada. The program offers essential training, mentoring, one-on-one coaching and business advisory support to enhance the business acumen of tech female founders and startups. It makes critical connections and introductions within the ecosystem across Canada to be leveraged in elevating the startup to the next level. 
---
Eligibility Criteria
To be eligible for the program companies must be:
woman-owned or have a majority of woman-owned shares

an early-stage startup with a minimum viable product

a registered technology company, based in Canada, with at least one full-time staff

 

committed to amplifying growth to the next stage

 
Benefits and Unique Value of Grow Now
The program offers a total of 4

5

hours of training

covering 15 essential topics for early-stage startups delivered by experts in respective knowledge areas.

The workshops cover topics such as finance, marketing,

sales, pricing, pitching, investing,

required regulatory frameworks, global growth, legal aspects, HR

,

1:1 coaching, personal branding

etc

. 

 

The

program offers

free

one-on-one coaching on

all 15

key areas

above

, based on the requirements of the company, facilitated by experts in the related knowledge area.

 

An intentionally small max cohort of 15

is maintained

to give time and focused attention to each company.

 

Easy accessibility to business advisors within the program duration and also continuation of the support offered to program alumni.

 

Exposure to the startup ecosystem across Canada and growing a professional network of businesses nationally.

Connections and endorsements made to relevant ecosystem partners and government authorities.

 

Network opportunities with investors, venture capitalists, government entities, like-minded founders, business communities etc.

 

A $5,000 travel grant for approved international travel for business purposes through mitacs.

Recognition opportunities.

 

The continuum of benefits offered to 

CWB members

 
Interested in hearing how Grow Now impacted past participants? Check out our testimonials page!
Please note:
The program is complimentary for CWB members. If you are not yet a member, you will be required to become one as part of your acceptance. 
Current cohort is full. Join waitlist for next cohort now.
Questions about the program? Interested in being added to a waitlist for future cohorts? Book a complimentary information session with Tamasha.
Tamasha Fernando 
Project Lead, Propelling Women Founders
Centre for Women in Business
tamasha.fernando@msvu.ca 
---

Grandir maintenant
Grandir maintenant est un incubateur virtuel pour les entreprises technologiques émergentes canadiennes dirigées par des femmes.
Grandir maintenant est un incubateur entièrement virtuel conçu spécialement pour les entreprises technologiques canadiennes dirigées par des femmes. Le programme offre une formation de base, du mentorat, de l'encadrement individuel et des conseils d'entreprise afin d'aiguiser le sens des affaires des fondatrices de sociétés technologiques émergentes. Les participantes noueront des liens essentiels et se feront connaître au sein de l'écosystème canadien, ce qui contribuera à faire progresser leur jeune entreprise.
---
Critère d'admissibilité
Les entreprises admissibles au programme doivent :
être détenues par des femmes ou avoir un actionnariat majoritairement féminin;
être en phase de démarrage avec un produit minimum viable;
être une société technologique enregistrée canadienne avec au moins un membre du personnel à temps plein;
s'engager à accélérer leur croissance pour atteindre un nouveau sommet.
Avantages et valeur unique de Grandir maintenant
Un total de 45 heures de formation sur 15 sujets de base pour les entreprises émergentes, dispensées par des experts dans leur domaine respectif. Des ateliers qui couvrent, entre autres, des sujets comme les finances, le marketing, les ventes, la fixation des prix, la présentation, l'investissement, les cadres réglementaires requis, la croissance mondiale, les aspects juridiques, les ressources humaines et l'image de marque personnelle.
De l'encadrement individuel gratuit sur les 15 domaines clés précédents, en fonction des besoins de l'entreprise, avec l'aide d'experts en la matière.
Une cohorte volontairement limitée à 15 participantes afin de consacrer le temps et l'attention nécessaires à chaque entreprise.
Un accès facile aux conseillers d'entreprise pendant la durée du programme et du soutien aux anciennes participantes par la suite.
De la visibilité dans l'écosystème canadien et la possibilité de tisser un réseau professionnel d'entreprises à l'échelle nationale.
Des liens avec des partenaires pertinents de l'écosystème et les autorités gouvernementales et leur appui.
Des occasions de réseautage avec des investisseurs, des sociétés de capital de risque, des entités gouvernementales, des fondatrices animées du même esprit, des communautés d'affaires, etc.
Une subvention de voyage de 5 000 $ pour des voyages d'affaires internationaux par l'entremise de Mitacs.
Des possibilités de reconnaissance.
L'ensemble des avantages offerts aux membres de CWB.
Souhaitez-vous connaître l'incidence de Grandir maintenant sur les anciennes participantes? Consultez notre page de témoignages!
Remarque :
Ce programme est gratuit pour les membres de CWB. Si vous n'êtes pas encore membre, on vous demandera d'adhérer lors de l'acceptation de votre candidature. 
Actuellement, Grandir maintenant est offert uniquement en anglais. Toutefois, les prochaines cohortes seront proposées dans les deux langues officielles.
Un maximum de dix entreprises seront sélectionnées pour le programme. Vous serez avisées par courriel de l'état de votre demande dans les deux semaines suivant la date de clôture des candidatures.
Vous avez des questions sur le programme? Réservez une séance d'information gratuite avec Imane.
Coordonnatrice des entreprises technologiques en demarrage
Centre for Women in Business