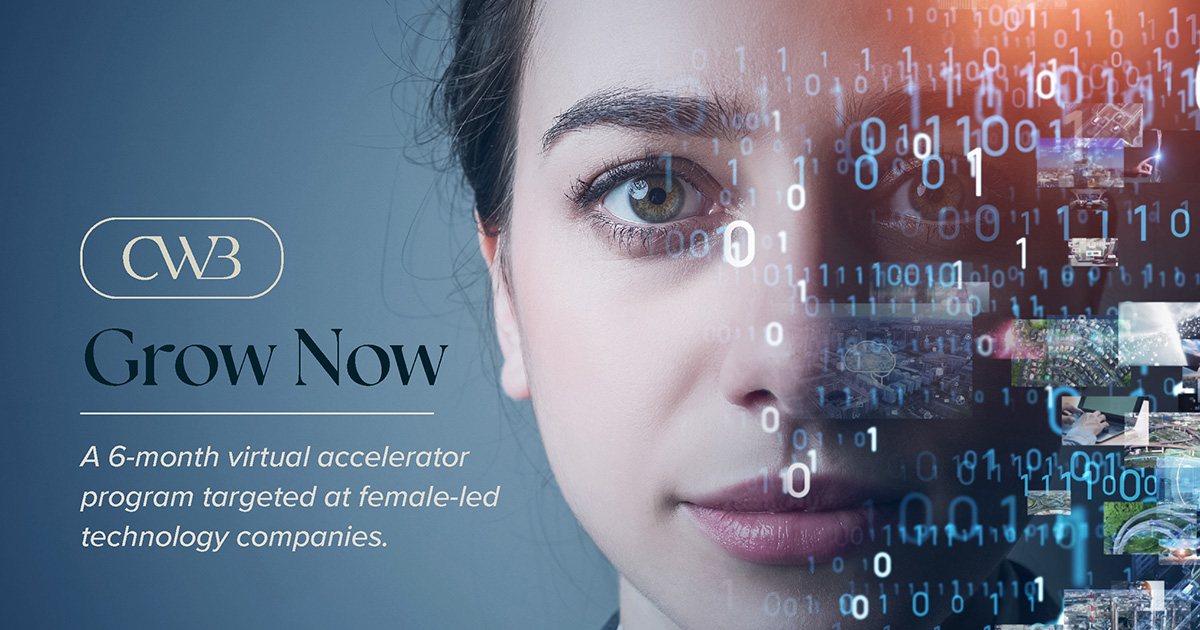 Grow Now
Grow now is a virtual accelerator targeted at female-led technology companies.
This 6 month program includes essential workshops, one-on-one sessions, coaching, and critical connections made to the startup ecosystem. Accepted companies will receive the opportunity to connect with a host of CWB partners and other supporting entities like Canadian Trade Commissioners Service, Atlantic Canada Opportunities Agency (ACOA), Digital Nova Scotia, Halifax Chamber of Commerce, National Research Council (NRC) etc.
The program content is tailored to support early-stage technology companies with a minimum viable product (MVP) and the included deep dive coaching will be customized based on the selected companies' unique needs.
Eligibility Criteria
Must be a female-owned company, or have majority female-owned shares
Should be an early-stage startup with an MVP (monetized or non-monetized) preferably with a proven positive beta-testing
Should have identified the competitors, and ideal customer profile(s) and have done some preliminary market research
Should be a registered technology company or willing to register within one month of the application date
Must be based in Canada with a minimum of one full-time staff (founder counts as long as they're full-time)
Must be committed to amplifying the growth of the company into the next stage
Benefits and Unique Value of Grow Now
A total of 40 hours of training and knowledge about the ecosystem by industry and ecosystem experts. You will receive workshops on Finance, Marketing, Personal Branding, Required Regulatory Frameworks, Global Growth, Legal Aspects, and HR that are tailor-made to early-stage tech startups.
An intentionally small max cohort of 10 to give time and focused attention to each company.
One-on-one coaching on 10 key areas, to be chosen based on the requirements of the company, facilitated by experts in the related knowledge area.
Easy accessibility to business advisors within the program duration and also continuation of the support offered to program alumni.
Exposure to the startup ecosystem in Canada and growing the professional network of businesses in Canada
Connections and endorsements made to relevant ecosystem partners and government authorities.
Network opportunities with investors, venture capitalists, government entities, like-minded founders, business communities etc.
Recognition opportunities
The continuum of benefits offered to CWB members
Please note: The program is complimentary for CWB members. If you are not yet a member, you will be required to become one as part of your acceptance.
A maximum of 10 companies will be selected for the program. You will be notified by email as to the status of your application within two weeks from the application close date.
Please note, the current cohort is full. For more information or to be put on a waitlist for future cohorts:
Tamasha Fernando
Project Lead, Propelling Women Founders
Centre for Women in Business
tamasha.fernando@msvu.ca