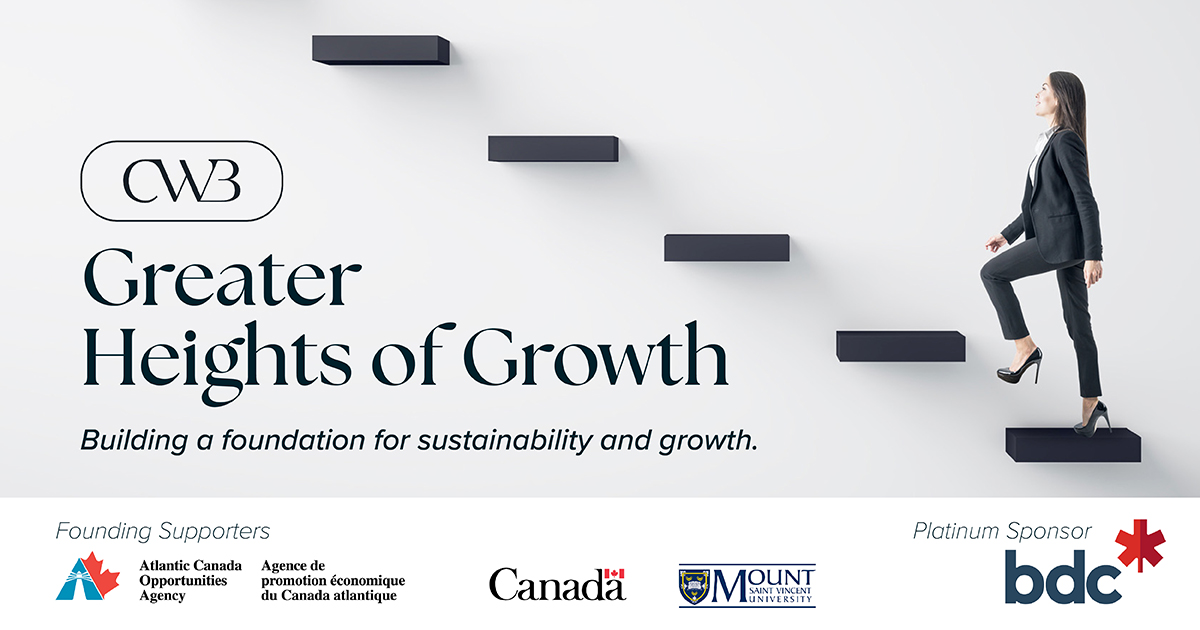 Greater Heights of Growth
En français ci-après
Begins mid April  2023 | 4 months of weekly sessions followed by 8 months of monthly sessions | Program fee $1,999*+tax | Offered virtually from MSVU in NS
*Note about current session fees: The Greater Heights of Growth program is valued at $7,500. Due to the ongoing pandemic recovery and the unforeseen strains it has placed on business owners, we continue to offer the program at a greatly reduced rate. If finances are a barrier at this time, don't hesitate to reach out.
Further expand your successful business and reach greater heights by building a solid business model foundation and monitoring system to manage risk and profitability through controlled growth.
Building A Foundation For Sustainability & Growth:
Growing a business requires that you understand how to define strategy, develop and leverage capabilities, create value for all stakeholders, and develop leadership skills at all levels of the business that can set direction, execute and deliver results.
As a woman business owner, now is the time to evolve your business model in order to create new markets and breakthrough innovations capable of achieving growth in good times and in bad. Learn how to build a solid business model foundation with stable functional areas and a management structure to support it in order to generate a cycle of innovation, accountability, productivity and increasing returns.
"I entered (the program) looking for a compass to navigate successfully operating a business in the new world order of living in a pandemic world. What I gained was a foundational learning for driving success in your business regardless of what is going on in the world around you. As business people, we balance working on our business with working in our business. (The program) provided me with a linkage between strategy, execution and cash, along with practical and actionable tools to drive what I learned. The program also allowed me to forge a strong bond with an amazing group of women who live in this roller coaster world of business and for that I am equally grateful." – Program Participant Cindy Roma, Telelink
Program Inclusions & Benefits:
The program focuses on the tools, strategies and content you need to pivot through COVID and lead and grow a scalable interactive business model.
No fluff – GHG focuses on the practical strategies, processes, metrics, operating system efficiencies, cash flow, sales and infrastructure components required to build a scalable business.
Utilizing subject matter expert speakers and a peer to peer mastermind component, you'll benefit from expert guidance and new perspectives on the challenges faced by your business.
Access to an online Microsoft Sharepoint course space with interactive tools, worksheets and resources
Access to a customized cash flow projection tool that can be used to optimize cash flow management
Once a week, half-day virtual classroom delivery from program lead and a series of subject matter experts
Peer-to-peer mastermind groups through video conferencing
Weekly one-on-one coaching sessions with program lead through video conferencing
Key Takeaways:
Generate new skill sets to allow you to look at innovation and the connections between profits, cash flow and productivity within your business.
Create a simple monitoring system that pulses the right data at the right time. This system will define the economic value of your business model and its potential for growth to reach your vision.
Learn to quickly analyze and make decisions about which opportunities to pursue, talent to hire and activities to perform in order to add value to your business model.
Evolve your business model to examine international markets to help increase returns.
Develop a better understanding of how certification can leverage new business opportunities to help your bottom line while ensuring your business model allows for additional capacity.
Access follow-up mentoring with program manager Laurie Sinclair, peer-to-peer mentoring opportunities and strategic alliances with women business owners from across Canada.
Take part in ongoing monthly group and individual coaching for the 12 months post-program to ensure you have the skill set to implement and are accountable to action the program outcomes in your business
Leave the program armed with the four basic approaches you as a business owner can take to evolve your established business model: Enhance, Expand, Explore and Exit.
Metrics of Success:
100% of participants created a new or improved business model and have acquired the skills to implement this business model
100% of participants have succeeded in sustaining and growing their revenue and other key metrics
Created a full strategic plan that is designed to drive revenue and growth. Cascaded this strategic plan to complete all 11 steps of the scale up business model
75 % of participants grew their revenue significantly
84% of participants sustained or grew the number of employees
65% of participants innovated  products and services to scale up the business and new digital deliveries of services with the creation of new digital platforms
90% of participants experienced incremental cash flow management and maintained or enhanced profitability.
72% of participants gained access to incremental sources of capital
68% of participants expanded market opportunities
Project Manager & Lead Innovation Strategist of the Greater Heights of Growth Program, Laurie Sinclair:
Laurie works with some of the most successful women business owners in North America as Atlantic Canada Chapter Chair of the Women Presidents Organization (WPO), a non-profit group of women presidents of multi-million dollar companies. Laurie is a tech-sector entrepreneur and Chief Executive Officer (CEO) of Finazz.com, providing financial analysis and advice software for small businesses. Laurie is also CEO of Amplify Business Coaching and Consulting which focuses on optimizing efficiency, profitability, financial drivers and scalability of second stage private enterprises. With a BA in economics (honours), an MBA in finance and marketing (honours), Laurie is a certified executive and leadership coach and has completed the Leading High Growth Business Executive Program at Harvard Entrepreneurship School of Business. Laurie is also known in our community as the creator of our Advanced Management & Mentorship Program. Now in its eighth year, over 180 participants have completed the program with 83% of participants reporting revenue increases from 25% to 85%.
"Laurie truly has an incredible background and passion for entrepreneurship which she blends together to create a broad and abundant, yet, targeted curriculum which provided us with the necessary knowledge and tools to help achieve scale in our businesses." – Program Participant Jennie Dobbs, Morris East
"I clearly will be able to scale my business much more effectively, profitably and have better employee engagement and operational efficiencies having gone through this program.  Our cohort all came from diverse backgrounds and I loved getting to know everyone.  I'm excited for the new tools I have to run my business.  The course gave me confidence and tools to move forward" – Program Participant
Platinum Sponsor, BDC:
As Canada's bank for entrepreneurs, BDC's purpose is to ensure that all entrepreneurs have access to the resources, financing, advice, networks, and tools they need to succeed. We are proud to partner with Centre for Women in Business, Greater Heights of Growth Program and provide program capital and guest speakers to support forward-thinking women entrepreneurs ambitious to take their business to the next level.
Registration:
To be eligible, participants must have pre-COVID-19 annual revenues of $1 million or more. Applications are open for the Fall 2022 program.
Questions? Contact Laurie Sinclair at laurie.sinclair@msvu.ca
Greater Heights of Growth
Poursuivez l'expansion de votre entreprise déjà prospère et atteignez de nouveaux sommets en matière de croissance en établissant un solide modèle d'affaires qui tiendra lieu d'assise et un système de surveillance pour gérer le risque et la rentabilité dans le cadre d'une croissance contrôlée.
Établir des assises pour la viabilité et la croissance
Pour faire croître une entreprise, il vous faut comprendre comment définir une stratégie, développer et exploiter des capacités, créer de la valeur pour toutes les parties intéressées et développer des compétences en leadership à tous les échelons aux fins d'orientation, d'exécution et d'obtention de résultats.
En tant que femme propriétaire d'entreprise, il est temps pour vous de faire évoluer votre modèle d'affaires pour créer de nouveaux débouchés et des innovations révolutionnaires vous permettant de croître en toutes circonstances. Apprenez à établir un solide modèle d'affaires qui tiendra lieu d'assise, avec des secteurs fonctionnels stables et une structure de gestion pour l'étayer, afin de générer un cycle d'innovation, de responsabilisation, de productivité et d'augmentation du rendement.
« Je me suis inscrite (au programme) pour trouver une boussole qui me permettrait de m'orienter dans l'exploitation efficace d'une entreprise dans le nouvel ordre mondial post-pandémie. J'ai ainsi pu faire des apprentissages fondamentaux pour assurer la réussite d'une entreprise quoi qu'il puisse se passer dans le monde qui m'entoure. En tant que gens d'affaires, nous devons trouver un équilibre entre travailler sur notre entreprise et travailler « dedans ». (Le programme) m'a permis de faire le lien entre stratégie, exécution et finances, avec des outils pratiques exploitables pour mettre en application ce que j'avais appris. Il m'a aussi permis de forger un lien solide avec un fantastique groupe de femmes qui dévalent elles aussi les montagnes russes du monde des affaires – et j'en suis tout aussi reconnaissance. » – Participante au programme Cindy Roma, Telelink
Inclusions et avantages du programme
Le programme est axé sur les outils, les stratégies et le contenu dont vous avez besoin pour pivoter en contexte de COVID-19 et développer un modèle d'affaires interactif échelonnable.
Pas de flafla – GHG est axé sur les stratégies pratiques, les processus, les paramètres de mesure, les efficiences du système d'exploitation, les flux de trésorerie, les ventes et les éléments d'infrastructure nécessaires pour établir une entreprise échelonnable.
Grâce à des conférenciers experts de leur domaine et à une composante « groupe de cerveaux » avec vos pairs, vous profiterez de conseils d'experts et de nouvelles perspectives sur les difficultés que rencontre votre entreprise.
Accès à un espace de cours Microsoft Sharepoint en ligne avec outils interactifs, feuilles de travail et ressources
Accès à un outil de projection des flux de trésorerie pouvant être utilisé pour optimiser la gestion des flux
Une fois par semaine, classe virtuelle d'une demi-journée animée par la responsable de programme et une série d'experts
Groupes de cerveaux avec les pairs par vidéoconférence
Séances d'accompagnement professionnel avec la responsable de programme par vidéoconférence
Points clés
Générer de nouveaux ensembles de compétence vous permettant d'envisager l'innovation et les liens entre bénéfices, flux de trésorerie et productivité au sein de votre entreprise.
Créer un système de surveillance simple qui procure les bonnes données au bon moment. Ce système définira la valeur économique de votre modèle d'affaires et son potentiel de croissance pour concrétiser votre vision.
Apprendre à analyser rapidement les occasions à saisir, les talents à embaucher et les activités à effectuer pour ajouter de la valeur à votre modèle d'affaires, et à prendre des décisions les concernant.
Faire évoluer votre modèle d'affaires pour examiner les marchés internationaux, afin d'aider à accroître le rendement.
Acquérir une meilleure compréhension de la façon dont la certification peut permettre de tirer parti de nouvelles occasions, pour améliorer vos résultats tout en garantissant que votre modèle d'affaires laisse place à un accroissement de la capacité.
Accéder à un mentorat de suivi avec la gestionnaire de programme Laurie Sinclair, à des occasions de mentorat entre pairs et à des alliances stratégiques avec des femmes propriétaires d'entreprises de tout le Canada.
Bénéficier d'un accompagnement professionnel de groupe et individuel continu pendant 12 mois après le programme, pour garantir que vous possédiez les compétences nécessaires à la mise en œuvre et soyez en mesure d'appliquer les résultats du programme à votre entreprise.
À l'issue du programme, vous maîtriserez les quatre approches fondamentales que vous pouvez adopter, en tant que propriétaire d'entreprise, pour faire progresser votre modèle d'affaires établi : améliorer, étendre, explorer et vous retirer.
Gestionnaires de projet et principale stratège en matière d'innovation du programme Greater Heights of Growth Program, Laurie Sinclair :
En tant que présidente de la section régionale du Canada atlantique de la Women Presidents Organization (WPO), un groupe de femmes présidentes d'entreprises évaluées à plusieurs millions de dollars, Laurie travaille avec certaines des femmes connaissant le plus grand succès en Amérique du Nord. Elle est elle-même entrepreneure dans le secteur des technologies et chef de la direction de Finazz.com, qui fournit des logiciels d'analyse et de conseils financiers aux petites entreprises. Laurie dirige aussi Amplify Business Coaching and Consulting, axé sur l'optimisation de l'efficience, la rentabilité, les motivations financières et l'adaptabilité des entreprises privées en deuxième phase. Titulaires d'un baccalauréat en économie (obtenu avec distinction) et d'une maîtrise en finance et en marketing (avec distinction également), Laurie est accompagnatrice certifiée auprès des cadres dirigeants et a terminé le programme Leading High Growth Business Executive à l'Entrepreneurship School of Business de Harvard. Laurie est aussi connue dans notre communauté comme la créatrice du programme Advanced Management & Mentorship. Plus de 180 participants y ont déjà pris part au cours de ses 8 années d'existence, dont 83 % font état d'augmentations de leurs revenus de l'ordre de 25 à 85 %.
« Laurie a vraiment un bagage incroyable et une passion pour l'entrepreneuriat qu'elle combine pour créer un programme de vaste de portée, mais pourtant ciblé nous procurant les connaissances et les outils nécessaires pour arriver à faire croître notre entreprise. » – Participante au programme Jennie Dobbs, Morris East
Commanditaire platine, BDC :
En tant que banque des entrepreneurs du Canada, la BDC a pour objectif de s'assurer que tous les entrepreneurs ont accès aux ressources, au financement, aux conseils, aux réseaux et aux outils dont ils ont besoin pour réussir. Nous sommes fiers de nous associer au programme Greater Heights of Growth Program du Centre for Women in Business et de fournir au programme des fonds et des conférenciers invités pour appuyer des femmes entrepreneures visionnaires dans leur ambition de faire passer leur entreprise à la vitesse supérieure.
Inscription :
Pour être admissibles, les participantes doivent avoir des revenus annuels antérieurs à la COVID de 1 million de dollars ou plus. Inscrivez-vous dès maintenant! Les inscriptions seront acceptées jusqu'au mardi 28 septembre 2021, ou jusqu'à ce que toutes les places soient comblées.