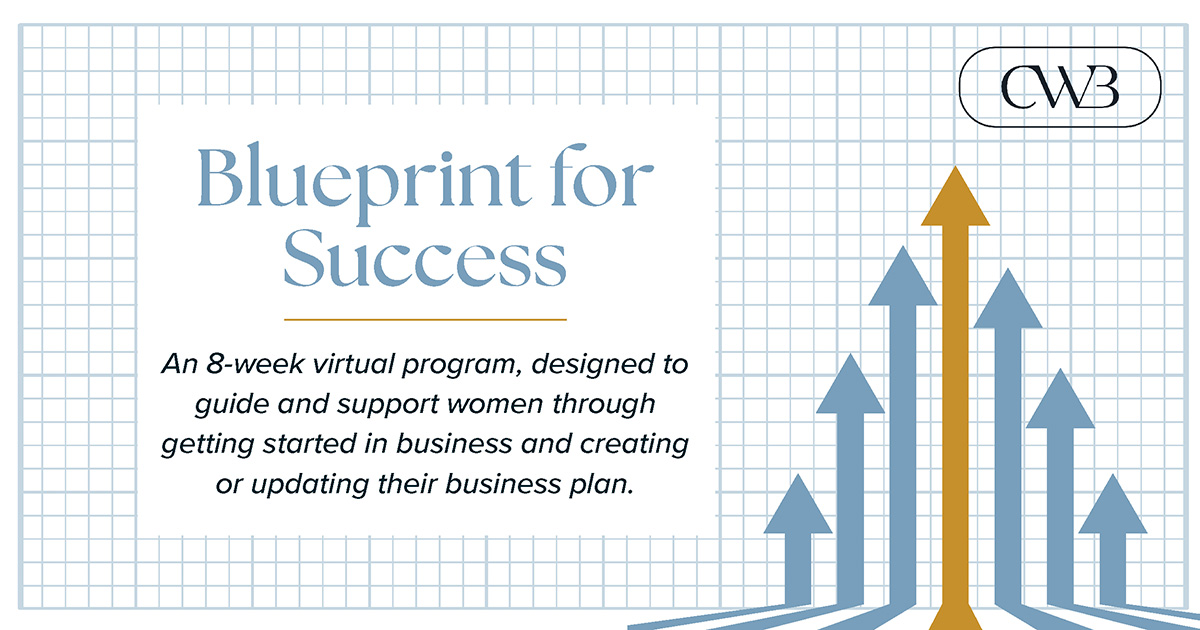 Blueprint for Success
Our Blueprint for Success business planning program is designed to guide and support women through getting started in business and creating or updating their business plan. This eight-week, virtual program includes modules on developing your idea, market research, financial planning, marketing, operations, and more.
As part of our Blueprint for Success program, you will have access to:
information and resources to start, launch, and grow your business
a collaborative group of women in the same business stage you are
one-on-one support from our experienced business advisor facilitators
dedicated time to spend on business planning and working towards your business goals
week-to-week and ongoing accountability from facilitators and peer group members
Program Delivery: Via Zoom (internet and computer access required)
Upcoming Dates: TBD
Class times: 6:00 p.m.- 8:00 p.m..  All course materials will be forwarded to you! You will be forwarded a link each week to connect into our Blueprint for Success Community
Cost: $125 (this is a member benefit, the cost is for a one-year membership with the Centre for Women in Business)
Educational Credit: Those who have successfully completed the Blueprint for Success program may apply through the Recognition of Prior Learning program at FOLCD, Dalhousie University and be awarded advanced standing in the Certificate in Business Management if they have completed the program within the last 10 years.
Current cohort is full.
To be added to a waitlist contact Nora Perry at nora.perry@msvu.ca
---
What our participants are saying
"It was a great opportunity to get some generalized business knowledge while developing great relationships with other strong, creative female entrepreneurs. I have continued my relationship with my accountability-buddy beyond the end of the course, and hope to keep in touch with the rest of our cohort as well. Courtney and Denise were great facilitators, and were so willing to share their knowledge and time with us all. I strongly recommend this program to anyone who is just starting out. Biggest tip? Do. The. Work. It'll pay off in the long run. "
-Blueprint Participant Fall 2021
Questions?
For more information contact Nora Perry at 902.457.6320 or nora.perry@msvu.ca
You can also subscribe to our newsletter to receive updates on learning opportunities and more.