How Rajean Willis is making a path for herself in the business community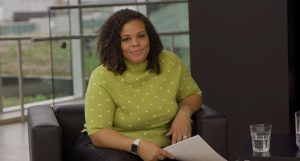 This February we are proud to celebrate African Heritage month in celebration of those who are making a path for themselves in the business world. 
Rajean Willis, a successful businesswoman, clinical social worker, and full-time PhD student at Mount Saint Vincent University, is someone who is doing just that. Rajean has made quite a name for herself in the Nova Scotia business community. 
Previously, Rajean took part in our AYWE program (RBC Alliance of Young Women Entrepreneurs Program) and shared that, "The AYWE program provided me with many opportunities for mentorship and mentoring. The program also provides a variety of training and networking events that helped me grow and expand my business networks and knowledge. I have learned from each experience that I participated in." 
In joining AYWE one of Rajean's goals was to host her own talk show, this dream quickly became a reality when she submitted a grant proposal to the Halifax Public Libraries. "I've always been interested in talk show creation and hosting and have done some of it over the years." Rajean then had the opportunity to host," "Our Stories, Our Experience" with the Halifax Libraries, "I'm very excited about the series and the potential to continue to take part in talk show opportunities in the future." 
"Our Stories, Our Experience" brought to light many important discussions including race-based trauma, the complexities of grief and loss, and Black community development. The series goal was to spread awareness surrounding the different social issues that impact African Nova Scotians. 
Click here to watch, "Our Stories, Our Experiences" presented by the Halifax Public Library as part of their African Heritage Month in 2021. 
As for 2022, Rajean plans to focus on her Doctorate degree and will begin her research study this March with a focus on "the experiences of anti-Black racism and trauma within the African Nova Scotian community." 
Rajean has a very busy schedule, and we know that the beginning of the New Year can be busy and overwhelming for many. As a clinical social worker, Rajean encourages her clients to understand and value the importance of self-care and taking time for oneself. As a mother of young children, she also relies on and values her support system and communicates the importance of this to her clients. 
Thanks, Rajean! For your work, and your words, and your commitment to your community.