How Princess Octavious is expanding her business with positivity in 2022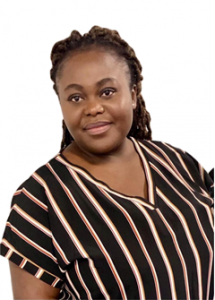 When Princess Octavious first started her business, P3 Hair and Beauty supplies, she wanted a better life for herself and her children, and through her hard work and dedication to her business she has made that possible.  
"For me, being a business owner is comprised of many things. Having the courage and bravery to be able to take a risk and start a new chapter and being able to multi-task a busy life in order to progress your business further."  
There are many exciting things about owning a business, "my favourite part about being a business owner is getting the opportunity to interact with new clients and being able to provide them with whatever it may be that they need. I also love being my own boss."  
Princess recently joined the CWB community, and has taken part in many opportunities that have helped to grow her business. "I didn't realize how many opportunities exist for women business owners through CWB. CWB has been a major help to me, I have attended classes, been able to create a business plan and have continued to gain knowledge through speaking to business advisors at the Centre."  
"Being a business owner is lonely at times, not only has CWB given me the tools to grow my business but, it's great to be able to talk to other women and connect with people who understand what I go through as a business owner."  
With International Women's Day (IWD) approaching, the Centre is asking our community what being a woman in business in 2022 means to them and what lies ahead. Princess shared "my goal for 2022 is to diversify my product lines. I also want to expand my business but, I don't just want to expand, I want to expand with positivity." What an inspirational focus all of us can take with us into the year.  
There are many things that go into being a woman business owner, "being a business owner in Nova Scotia is challenging, uplifting, and a blessing all at once. Having the chance to connect with CWB has helped me to meet other women who understand my challenges, and I feel so grateful and humbled to have met them."  
Thank you Princess for sharing your story!  
We invite you to share yours with us by participating in our Women to Watch – Entrepreneurs Building Our Communities video contest. Visit us online to submit your video or register for our International Women's Day celebration.