Cooking to Inspire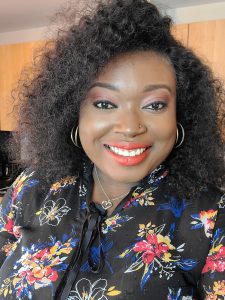 From the age of eight Frances Dadin-Alli has had a passion for cooking. Originally from Nigeria, she is ready to bring her cultural cuisine to Halifax, as she starts her own take-out kitchen, opening June 1st in Middle Sackville.  
"I have been cooking since I was eight and my dream has always been to open my own restaurant. I know now I am on the path to success and am closer to one day owning and operating my own restaurant."  
When Frances opens on June 1st, she said the thing she is most looking forward to doing is simply creating, "I am so excited to have my own space. I just want to be in the kitchen creating delicious, colourful meals for people to enjoy."  
Through meeting with our Business Advisor, Natalie Frederick-Wilson, Frances has implemented many new ideas and tools to help her succeed in business. "There are things that I didn't know, but when talking to Natalie, she always gave me great pointers. She helps guide me in the direction I need to go. Something I really appreciate about Natalie is she doesn't just tell you something in hopes that you will figure it out yourself, she sends you helpful links, information and connects you with others who can help. She goes above and beyond to help and encourage you, she really has taken a lot of weight off my shoulders."  
Although, like so many, the pandemic was a huge challenge, Frances still managed to be inspired to give back to her community. "Throughout the pandemic, I cooked free meals for students which is something I hope I can continue to do. I'm so passionate about giving back to the community, being an immigrant and previously a university student has made me want to give back to students living on campus."  
Frances also shared many of the exciting goals she hopes to accomplish in 2022 and beyond. "My goal is to create a strong brand not just with my name but through my food. I am starting small, creating my brand, and hoping to grow in order to start my own restaurant in the next two years. I'm doing this all by myself and I just want to show off my country's traditional food and educate people about where I am from."  
June 1st is fast approaching, and we cannot wait for Frances to open her doors. If you are interested in following her on this journey and want to grab some delicious food, make sure to follow her on Instagram! Congratulations, Frances.