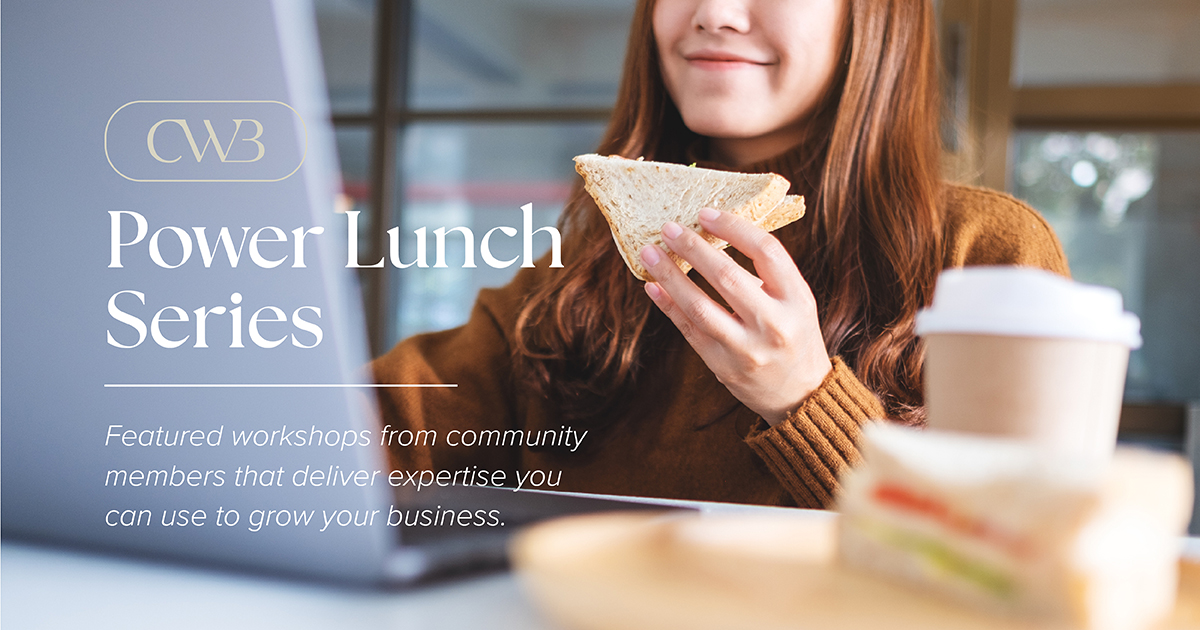 Power Lunch
Power Lunch is back for its ninth year!
You're invited to join us as we serve up our Power Lunch featuring workshops from selected members to deliver expertise you can use to grow your business. Our Power Lunch leaders will walk you through information on a range of business topics, offer key takeaways, and answer your questions.
Power Lunch will be held once monthly from October 2022 through September 2023, from 11:30 a.m. – 1:30 p.m., delivered virtually.
As this year's sessions are free for participants, we ask that you keep your registration to no more than two sessions, to allow for a larger diversity of attendees.
 2022/2023 Series Details –

Please note all remaining Power Lunch sessions are currently full.
October 25
th –
 WorkingSm@rt in the 21st Century 
Speaker: Dariel Green of Priority Learning and Development
Learning Objectives: The overall objective of this  session is to help participants manage their workload more effectively, become more proactive versus reactive and maintain focus on top priorities.  
Participants will better understand:  
The key productivity behaviors to improve personal workload and time management

A Productivity Process of three key strategies to better plan your  day, manage your  email, and utilize your  calendar together to better manage time, follow through and develop better work/life integration.
November 29th –
Developing Effective Communication in a Hybrid Workplace 
Speaker: Ange MacCabe of Intuity Performance
Learning Objectives:
In this session you will cultivate leadership skills that fosters open communication, adaptability, and feedback.  
Raise your individual leadership awareness and develop the ability to adapt to other team members' communication styles. 

Discover the four communication styles and put into practice how they apply to your team and/or clients through a group exercise. 

Create an individual action plan to be realized in the workplace by identifying roadblocks, supports required and establishing commitments through a series of coach approach questions and corresponding worksheet.
December 13
th – Complaint is Not a 4-letter Word
Speaker: Sarah Delaney of BFD Retail Consulting
Learning Objectives:   
Managing the client relationship, why customers complain & what to do about it when it happens (and it's GOING to happen!)

Develop a Guiding Service Principle (GSP) that will give you

A point of reference/guidepost in future client relationships

Help develop & keep customer relationships strong

Know what actions to take to salvage customer relationships/experiences when things have not lived up to expectations 

 

Establish and document a step-by-step framework for approaching challenging customer situations so you can address complaints from a place of learning and confidence instead of fear and defensiveness  

Adopt an attitude of gratitude toward customers that complain and develop a system for processing things learned from these interactions
January 31st – Unleash Your Professional Potential with Executive Presence
Speaker: Colette Robicheau of Colette Robicheau & Associates and Organize Anything
Learning Objectives:
By the end of the session participants will be able to:

List and summarize the weighted importance of the three key areas of Executive Presence:

 

 

Gravitas

Communication

 

 

Appearance 

 

 
Identify three elements in each of the three key areas of Executive Presence that can be worked on in the coming month

Explain how online and in real life networking communications skills affect others' perception of professionalism, intelligence, and credibility

 

Create a LinkedIn mini plan that can be accomplished in the next month. 

 

 

Share three areas for improvement in verbal and non-verbal communication areas. 

 

 
March 28
th – All In! Allyship and Inclusion Leadership 
Power Lunch Speaker: Corrie Melanson of  Sea Change CoLab Inc. 
Learning Objectives:  
Define allyship and why it is important for more inclusive workplaces 

Practice a simple framework for allyship using reactive and proactive cues 

Explore strategies to be a more effective ally using an allyship continuum 

Reflect on what you have learned and your next steps
April 25
th – Pricing for Profit and Export
Speaker: Katy Baker of Pricing for Profit
Learning Objectives:  
The goal is pricing, the journey is financial literacy where we will review:

 

basic cost terminology and what financials statements really represent

 

How to reverse engineer for break-even and how to set a profitable price

 

Distinction of direct costs vs. indirect costs and gross profit   

 

Overhead and why annual budgeting is essential 

 

Defining 'capacity to deliver

A word on the competition and creating a value proposition that matches your price point. 

 
May 30
th
 – Plan 6 Months of Social Media Content in a Day 
Speaker: Kerra Aucoin Mansfield  of KA Social Media Consulting
Learning Objectives:  
By the end of this workshop, the participants will be able to: 
Develop a Social Media Content Plan that works for their business/brand. A content plan that is feasible, not overly time-consuming, or overwhelming. 

Determine what platforms their business/brand should be spending time on 

Plan and prepare 6 months of content
June 27
th – Foundations for Marketing Success: Stop Focusing on Social Media to Get More Clients
Speaker: Kathy Colaiacovo of Pepper It Marketing Services, Inc.  
Learning Objectives:  
Participants attending this session will learn to: 
Identify the 10 Marketing Foundations and understand the role of each in marketing.

 

Determine which foundations their business has and will need.

 

Assess their own marketing activities and know if they are using or missing these foundations.

 

Differentiate between using social media strategically to get more website traffic and leads from posting random social media content with no purpose.

 

Develop a list of the 7 types of marketing content their business needs to be consistent with marketing.

 

Prepare a list of action steps for what they need to add, change, or optimize with their foundations.

 
July 25
th
 – Worldview Intelligence. Changing Conversations. Changing Outcomes. 
Speaker: Kathy Jourdain of Worldview Intelligence  
Learning Objectives:  
This interactive session will focus on three key concepts:  
An introduction to and basic understanding of worldviews, what they are and how they operate and why it matters personally and professionally 

An introduction to the Worldview Intelligence Six Dimensions Framework, and explore your own worldview 

An introduction to how neuro- and behavioral science makes it challenging to shift worldviews or change minds and what that means in practice
August 29
th
– Soar with Purpose: The Four Keys of Entrepreneurial Success  
Speaker: Melanie Rhora of Skyrocket Your Success Inc.  
For entrepreneurs who are busy working around the clock and wishing business could be easier. 
Learning Objectives:  
In this action‐packed session you will discover:  
The key business building step that is missed by most entrepreneurs 

How to optimize your business for the opportunities you actually want

 

A simple yet effective approach to attract the success you are searching for 

The one easily forgotten action that can transform your business & life 
September 26
th – Lead with a Coaching Mindset: Approaching Difficult Stakeholder Conversations 
Speaker: Susan Power of Power Up Leadership 
Learning Objectives In this program participants will be able to: 
Differentiate between four coaching styles and the best applications for stakeholder development.

Plan difficult conversations with stakeholders using coaching strategies.
For more information:
Eirinn Fraser – Business Advisor, Cape Breton