CWB & RBC team up on new mentorship program for MSVU students
Last month, we launched an eight-week mentorship program for our RBC Alliance of Young Women Entrepreneurs (AYWE) students. This new program, titled Lead Mentor + Peer Mentor = Goals, highlights the importance of mentorship and connections for aspiring student entrepreneurs, combined with weekly goal setting and accountability check-ins. Eight senior representatives from RBC's Atlantic Women's employee resource group – Vice Presidents, Managers, Regional Coaches – generously donated their time to share their personal and professional journeys in a webinar format, plus additional hours to mentor students 1:1.
"We know through research that young women are interested in starting their own business, but that they often hold off until they are older or not at all. By providing access to mentors, business skills development, and financial knowledge in this critical stage of their professional journey as students, we can increase their confidence, connections, and encourage more young women to explore entrepreneurship as a viable career option," says Tanya Priske, Executive Director of the Centre for Women in Business.
When our students' program manager, Natalie Frederick-Wilson, first approached RBC with the opportunity, it was a natural fit. "It can be challenging for young women to gain the skills and networks they need as they launch their career," says Trish Vardy, RBC Regional Marketing Manager, Atlantic Canada. "RBC is a strong supporter of women entrepreneurs, plus we have incredibly inspiring professional women at our company. It's a great match to have them share their valuable life and work experiences with the AYWE students. We're also looking forward to hearing the students' entrepreneurship journeys."
Each week features a new RBC representative (Lead Mentor) who shares their story of personal and professional development, entrepreneurship, goal setting, and resilience. The first session on Friday, January 29, 2021 featured RBC Manager, Financial Planning Associates, Wendy Wagner.
What started as Wendy's goal to be Indiana Jones and live a life of adventure, turned into a 26 year journey at RBC. If you were there to hear the ups, downs, twists, and turns, you'd know that this journey was just as, if not more, thrilling. Wendy started as a teller and began cross training and taking on various positions across the organization. She embraced challenges including impromptu interviews, her position being eliminated, the uncertainty that comes with temporary projects, and multiple relocations. Her mosaic of experience and willingness to take on new projects led her to her current role where she leads a team of 15 associates who provide exceptional advice and client support to clients across Canada.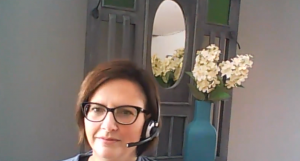 Each week also features an RBC AYWE student (Peer Mentor). At the launch, we heard from Kamla Williams. Kamla is currently pursuing her Master of Arts in Child and Youth Study and owns a company with her younger brother – Herboo Botanicals. Kamla shared an engaging story on getting started in business. They embraced challenges from packaging and product testing, to production and even thievery. Today, you can find their products across stores in Jamaica with a goal to expand into international markets such as Canada in the future.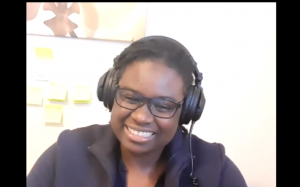 The launch event set the virtual stage for the next seven weeks. Students will continue to hear unique journeys from both established RBC representatives and their peers, develop mentor-mentee relationships with both, and work collaboratively towards their achieving their business goals.
—
Sessions
Lead Mentor
Peer Mentor
January 29
Wendy Wagner
Manager, Financial Planning Associates
Kamla Williams
MA Child & Youth
February 5
Renee Taylor
Regional Enablement Coach, Career Sales
Erica Clarke
BA Child & Youth
February 12
Shannon Manuel
Regional Enablement Coach
Rajean Willis
PhD Education
February 19
Michelle Allison,
Manager Business Markets
Sang Lam
BSc Human Nutrition
February 26
Lesley Wright
Business Account Manager
Katie Downey
BBA
March 5
Liza McDonald
Regional VP, Financial Planning Atlantic
Jenna Shevdov
BEd
March 12
Paula Power
Regional Enablement Coach, Financial Planning Atlantic
Kenya Dames
MPR
March 19
Pavlina Stanoev
Commercial Account Manager, Financial Services
Amanda Higgins
BA Psychology
—
The CWB is proud to deliver student entrepreneurship programs for Mount Saint Vincent University students, including the RBC Alliance of Young Women Entrepreneurs program and The SparkZone (co-ed).
RBC's support of MSVU includes a generous donation in support of the CWB and to establish the RBC AYWE program; building two "RBC Links" – both popular places for students; and establishing the RBC Endowed Scholarship for undergraduate students with strong academic achievement and leadership in student government, sports, or their community. Thank you, RBC for your continued support of students and women entrepreneurs!