A Warm Welcome to our New Team Members!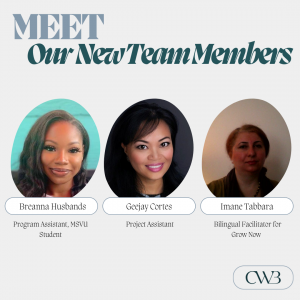 Our small but mighty team is growing! I extend a warm welcome to: Breanna Husbands, MSVU Student who will be working on CWB operational efficiencies; Imane Tabbara, our new Bilingual Facilitator for Grow Now; and Geejay Cortes, as our Project Assistant.  
Breanna is originally from Barbados but made the move to Halifax to pursue her undergraduate degree in Biology at MSVU. During her academic journey she has received the "STEM for Her Scholarship" from ApplyBoard, as well as being accepted to the IBIS Student Assistantship Program from October 2022 to May 2023. During her time with CWB Breanna is "'Excited about the opportunity to contribute my skills and knowledge to this dynamic organization. CWB not only facilitates personal growth but also provides a platform for us to collaboratively make a meaningful impact."  
 Geejay recently relocated with her family from Toronto to Dartmouth. She has experience working in Commercial Operations, Budgets, and Office Administration for Special Projects and Executive Assistant experience for offsite event planning. "I am excited to support the team at CWB and be part of the great initiatives for the Centre for Women in Business!" 
 Imane calls Montreal her home. With more than 10 years experience in business strategy, planning and implementation for Technology Startups, and small to large businesses in various industries. She is excited to be a part of our Grow Now program for women-founded tech start-ups. "I want to provide our participants with all the help and tools to lead and manage their business, to forge their space in the business world, and to lead with audacity, integrity and the courage to be different."  
Welcome to the CWB team ladies! We are so excited to be working with you.