Women in Business Series: Rural Entrepreneurs Leading the Way in Tourism
February 9, 2022
12:30 pm - 1:30 pm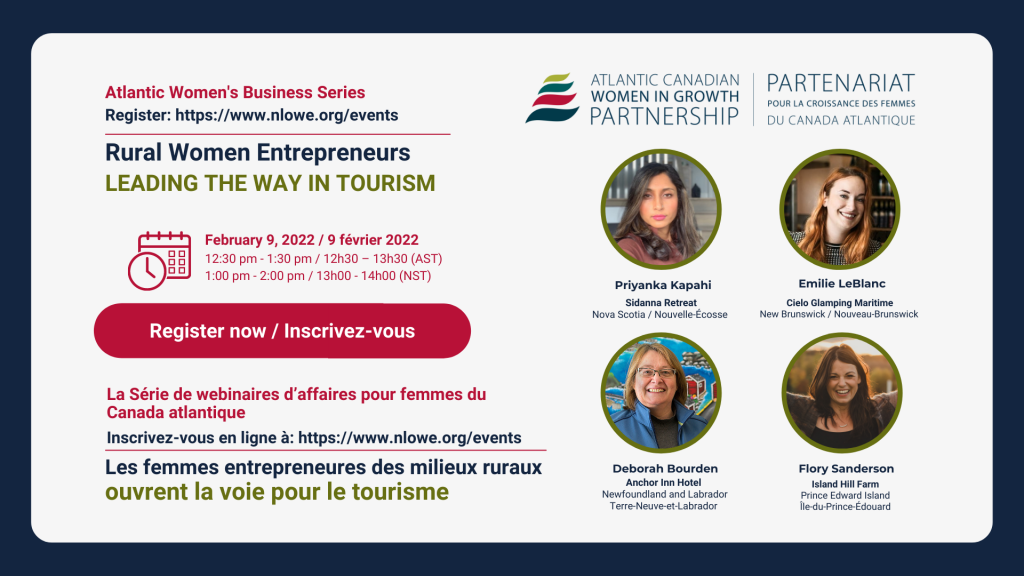 Women in Business Series: Rural Entrepreneurs Leading the Way in Tourism
Atlantic Canadian Women in Growth Partnership (ACWGP) is thrilled to introduce the next Atlantic Women's Business Series.
This webinar series features interviews with distinguished women entrepreneurs from Atlantic Canada who will share their personal journey: how they got started in business, what obstacles they encountered, what they learned along the way, from whom they got the support and advice they would give to new businesses and those ready to expand.
Speakers include: Priyanka Kapahi, Owner  Sidanna Retreat, Emilie LeBlanc, Owner Cielo Glamping Maritime, and Wilma Hartman or Deborah Bourden of Anchor Inn
Available in French and English.