Women in Business Series: Rural Entrepreneurs Leading the Way in Tourism
February 9, 2022
12:30 pm - 1:30 pm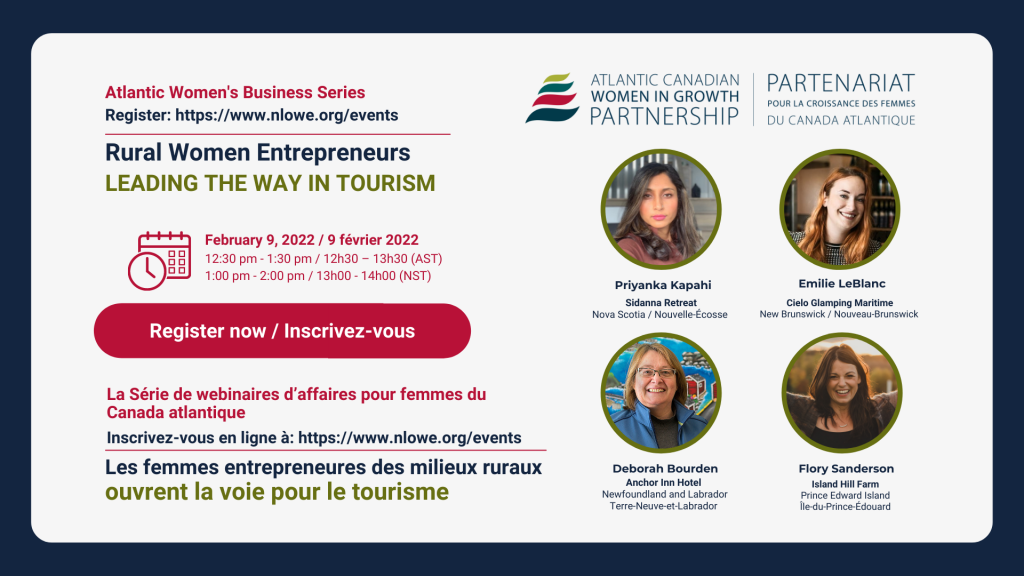 Rural Women Entrepreneurs Leading the Way in Tourism
 Atlantic Canadian Women in Growth Partnership (ACWGP) is thrilled to announce the next event of their Atlantic Women's Business Series.
This webinar series features interviews with distinguished women entrepreneurs from Atlantic Canada who will share their personal journey: how they got started in business, what obstacles they encountered, what they learned along the way, from whom they got the support and advice they would give to new businesses and those ready to expand.
February 9th, 2022 – 12:30 p.m. to 1:30 p.m. (AST)
 For more information contact: denise.williams@cwb
Les femmes entrepreneures des milieux ruraux ouvrent la voie pour le tourisme
Le Partenariat pour la croissance des femmes du Canada atlantique (PCFCA) est ravi d'annoncer le prochain événement de sa Série de webinaires d'affaires pour femmes du Canada atlantique.
Cette série de webinaires présente des entrevues avec des femmes entrepreneures distinguées du Canada atlantique qui feront part de leur parcours personnel : comment elles se sont lancées en affaires, à quels obstacles elles se sont heurtées, ce qu'elles ont appris en cours de route, de qui elles ont obtenu du soutien et les conseils qu'elles donneraient aux nouvelles entreprises et à celles prêtes à prendre de l'expansion.
9 février 2022 – 12h30 à 13h30 (HNA)