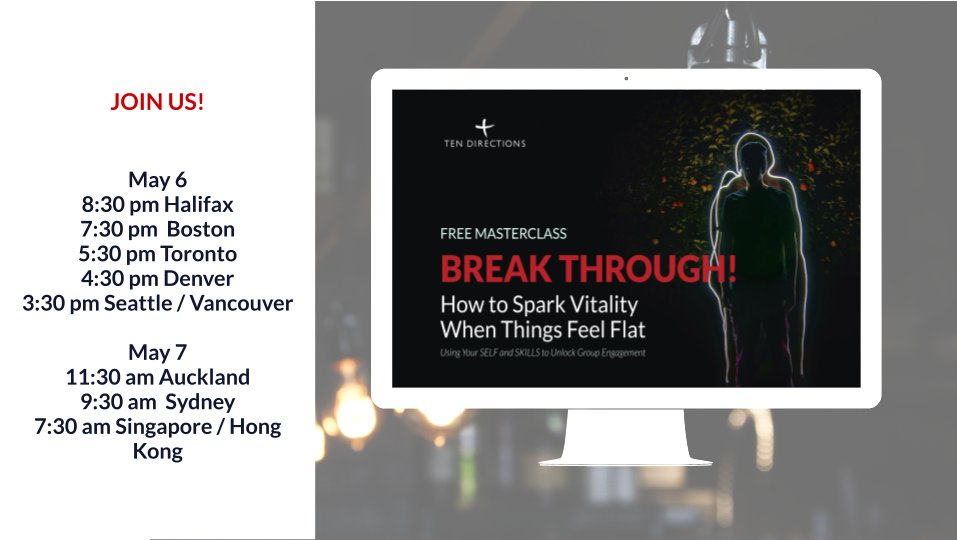 Ten Directions: Breakthrough! How to Spark Vitality When Things Fall Flat FREE Masterclass
May 6, 2021
8:30 pm - 9:30 pm
Join Rebecca from Ten Directions for a FREE Masterclass on How to Spark Vitality When Things Fall Flat.
In Rebecca's words: I don't know about you, but a recurring challenge I face as a facilitator today (especially on Zoom) is when a group's energy is flat, people are silent, and the room feels disengaged. The "wall of silence" or the "group withhold" can quickly become stressful and disheartening for even the most experienced facilitator.
How do we shift from this dry and depleted feeling of flatness and disengagement to the fulfilling flow of engagement and creativity?
Join us for a one hour masterclass to learn how to:
 Increase engagement by starting with your own authenticity
Move from feeling stuck to feeling flow when the room is flat
Incorporate structures that encourage what is real and meaningful to come to the surface
Contact information:
Rebecca Colwell