Safi Media Webinar: The 500K Offer
December 7, 2022
12:00 pm - 1:30 pm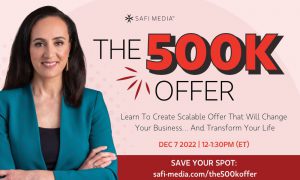 In this practical hands-on training, Eleanor Beaton, Founder of Safi Media, will guide you through a process to help you make more money AND impact more clients by creating a premium scaleable offer that saves you time, reduces overwhelm, and helps your company grow bigger than you. She will teach you every tactic, every mindset shift, and every tool you need to construct premium offers that take no more effort to generate $500K in sales, as they do to generate $50K in sales!
Join us on Dec 7th, 12pm ET to find out how you can create your own 500K Offer
About Safi Media:
Founded in 2015 by Eleanor Beaton, Safi Media is an education and business coaching company that backs bold women leaders who are advancing gender equity through entrepreneurship. Safi Media is defined by our belief that when women earn, we all win.