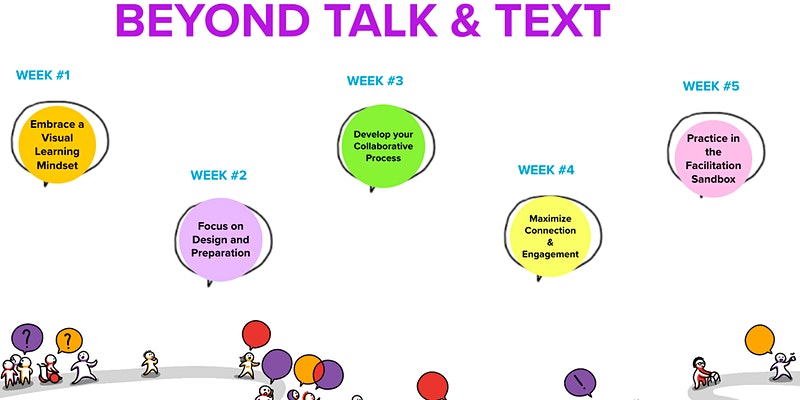 Corrie Melanson Consulting: Beyond Talk & Text: Facilitating Visual & Collaborative Processes Online
January 21, 2021
11:00 am
Shifting your meetings, events, or courses online? Struggling to adapt? Suffering from online meeting fatigue?
Join Corrie Melanson of Corrie Melanson Consulting for a 5-week intensive course on facilitating visual & collaborative processes online. Corrie will teach you the strategies you need to move beyond the mechanics of video conference to the dynamics of online collaboration, learning, inclusion, and engagement.
This 5-week intensive course is designed to help trainers, facilitators, and educators acquire and adapt interactive and visual tools for online gatherings that go beyond talk and text to enhance inclusion, focus, and effectiveness.
Acquire collaborative and visual online tools including decision-making, preparation, and follow-up to build trust and increase collaboration and efficiency
Explore and adopt best practices in online facilitation
Incorporate online meeting design principles into your training and facilitation
Manage online meetings including set-up, technology, and online tools
Create or adapt "face-to-face" workshops to be inclusive and engaging online
Translate knowledge and data into visual and creative formats that can be presented in engaging, easily understood, specific, and relevant ways
Each course includes:
10 hours of group training online: 5 LIVE 2 hour sessions, once a week
Session recordings
Email support
6 visual and collaborative decision-making templates
Sample host and participant guides
30-minute 1-on-1 coaching call
Cost: $422.45 (15% discount for CWB members!) – Usually $497
Contact information:
Corrie Melanson