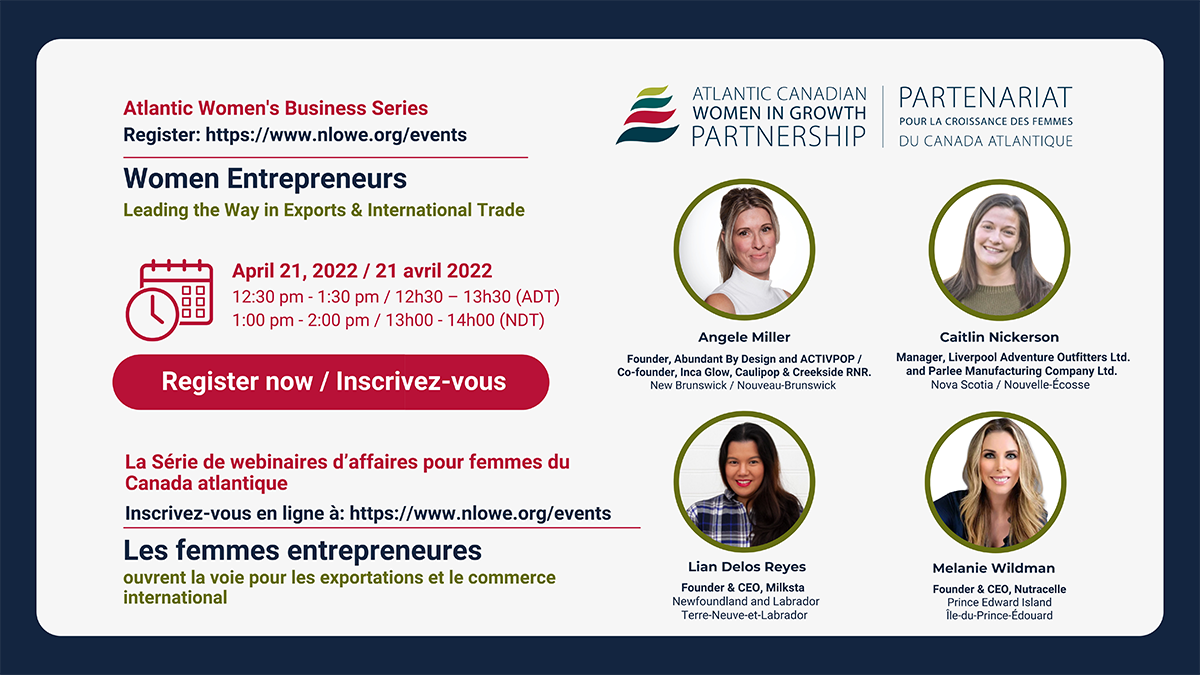 Atlantic Women in Business Series: Women Entrepreneurs Leading the Way in Export and International Trades
April 21, 2022
12:30 pm - 1:30 pm
Atlantic Women in Business Series: Women Entrepreneurs Leading the Way in Export and International Trades
April 21, 2022 / 21 avril 2022
12:30 pm – 1:30 pm / 12h30 – 13h30 (ADT)
1:00 pm – 2:00 pm / 13h00 – 14h00 (NDT)
Panelists:
Lian Delos Reyes founder & CEO of Milksta, NL
Angele Miller, founder of Abundant By Design and ACTIVPOP, NB
Melanie Wildman, founder and CEO of Nutracelle, PEI
Caitlin Nickerson, owner of Liverpool Adventure Outfitters and Parlee Manufacturing, NS
Bios:
Lian Delos Reyes
For about a decade, Lian worked as a creative & multimedia professional in a roller-coaster series of progressive roles in the largest TV network in her home country, Philippines. She moved into the corporate world overseas (Singapore) in the sales & service industry for a British health & wellness brand before founding Milksta, a brand she built from scratch, within the comforts of her own home.
In 2018, she started calling Newfoundland her home and even calls herself a NewFielipina. She's also a mother to 2 boys, a Certified Breastfeeding Specialist, and currently nerding on natural healing through herbal medicine schooling.
Angele Miller
Angele Miller is from Cocagne and she is the founder of Abundant By Design and ACTIVPOP; she is the Co-Founder and consultant of Inca Glow and Co-Founder of Caulipop and Creekside RNR. Angele pursued studies in natural medicine and has been working in the natural food & beauty industry for over 20 years. She has strong knowledge and passion for helping new and existing brands succeed. She has experienced many facets of business in many sectors from small retail to launching brands internationally, as well as to designing and manufacturing. Angele was also nominated for Canada's Top Canadian Women Entrepreneur of the Year Award. Her skills sets include business & entrepreneurship.
Melanie Wildman
Melanie is the author of the Amazon bestseller 'the Ultimate Protein Cookbook', an award-winning entrepreneur, the founder of Nutracelle, a bariatric patient and the peanut-free mother of three children, two with severe food allergies. Melanie has won multiple awards, including Woman of the Year from the International Business Awards, Start-Up of the Year, Best New Product for Nutralean, as well as numerous other business awards. As a former Mrs. Canada, she has transformed her own health and is passionate about helping people live their best lives.
Caitlin Nickerson
Caitlin Nickerson is the owner, Liverpool Adventure Outfitters and Parlee Manufacturing in Nova Scotia.