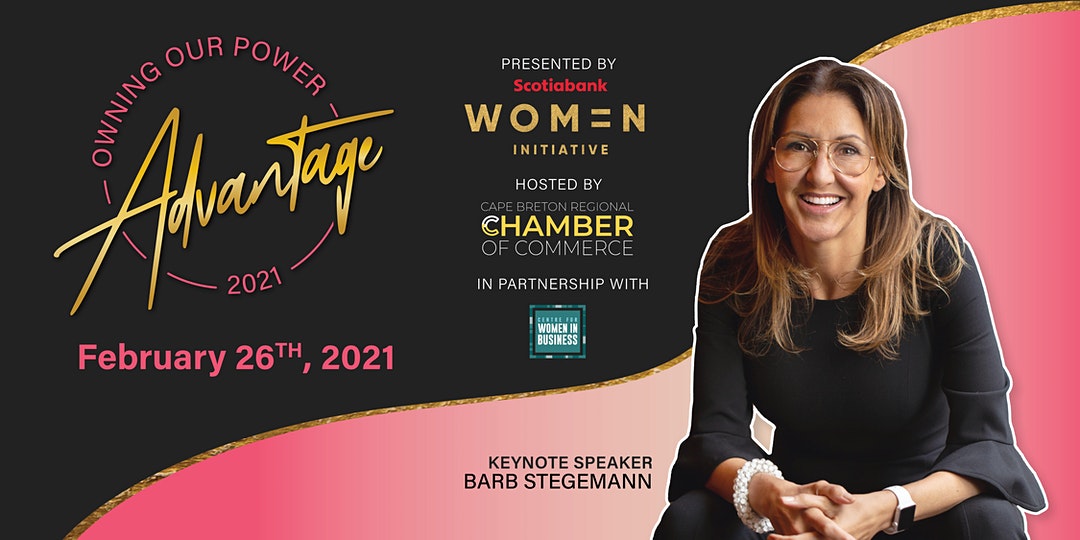 ADVANTAGE: A Cape Breton Women's Leadership Conference
February 26, 2021
9:00 am - 6:30 pm
The Lakes at Ben Eoin Golf Club & Resort
5153 East Bay Highway
Ben Eoin, Nova Scotia, B1J 1P1

Hosted by the Cape Breton Regional Chamber of Commerce and in partnership with the Centre for Women in Business, ADVANTAGE 2021 will be a full day of inspiration and empowerment for women, by women, working in or for business on Cape Breton Island.
Throughout the day, we will be covering important topics encouraging discussion and engaging in 'workshop' style activities to dig deep and get empowered. We recognize that there is an important shift that is happening with women in the world of business and entrepreneurship, and we believe that this day-long conference is an important format to cover relevant topics that empower, support, and encourage our business community of women to understand their advantage and use that knowledge as power!
We want to spend a day with amazing women showcasing that in 2020 being a woman is an ADVANTAGE. Although there is still room for growth, there has been no better time in our history to be a woman than now. Let's own and celebrate this advantage! See you on February 26th 2021!
Contact information:
Courtney Schmidt