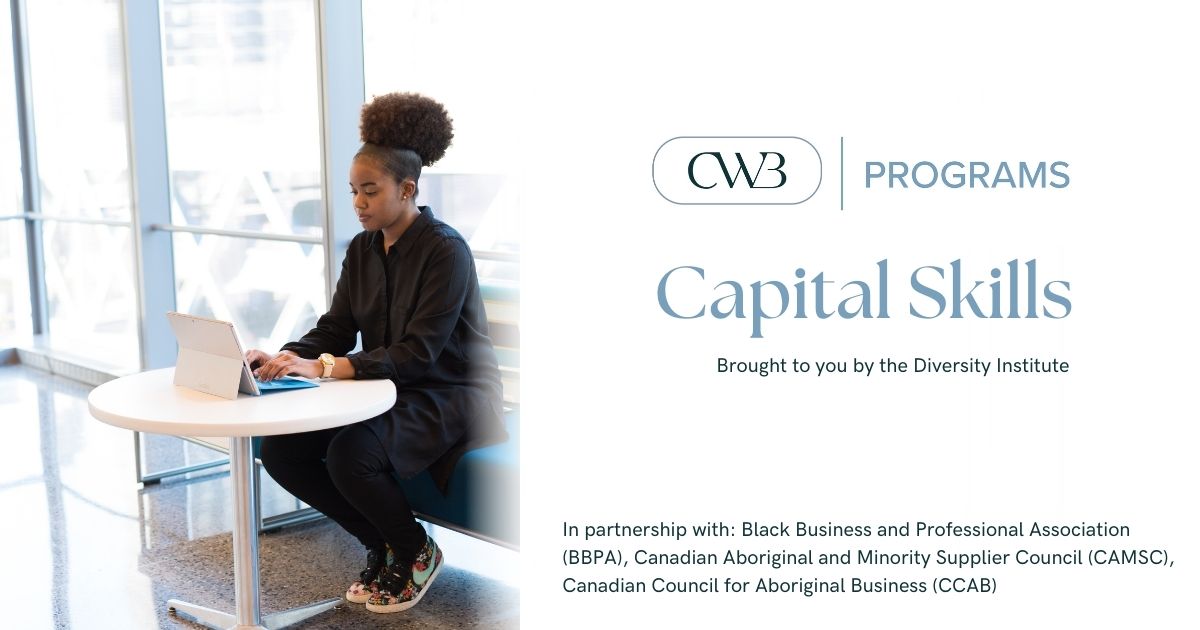 Capital Skills
Capital Skills is funded by the Government of Canada under the Future Skills program. The Diversity Institute and The Centre for Women in Business (CWB) are pleased to collaborate with the Black Business and Professional Association (BBPA), Canadian Aboriginal and Minority Supplier Council (CAMSC), and the Canadian Council for Aboriginal Business (CCAB), to research and deliver financial training and one-on-one support for up to 300 women across Canada, to support access to capital for their businesses.
As part of this exciting project, the CWB will offer complimentary training programs and supports designed to support the research of the Diversity Institute and to build a foundation for your business; improve your skills to support your ability to access financial opportunities; and build your capacity within the entrepreneurial ecosystem.  All program participants will have access to  support from facilitators and coach/mentors throughout the various programs.
The research will look at the effectiveness of the Capital Skills entrepreneurship training model to understand what type of training best supports the success of entrepreneurs from equity-deserving groups in Canada, as well as builds capacity in the ecosystem, and mitigates barriers for diverse Canadians pursuing entrepreneurship.
You will be invited to participate in the research study via links to three surveys:  one at the start of the program (20 minutes max), one at the end of the program delivery (15 minutes max), and a short third survey (10 minutes max), which will be sent to you after the full program ends. All surveys will remain confidential. The surveys will collect information about your skills and knowledge, previous business experience, previous ability to secure funding or financing, expectations of the training program, demographic information, and program satisfaction. Although they are voluntary, anonymous information gleaned from survey submissions will help provide critical data that may be used to demonstrate the ongoing need for this type of training and support. 
Note:
open to women entrepreneurs in the Maritime Provinces 16 years of age and over
participants are welcome to take in one or all of the program offerings
program spaces may be limited; register early to avoid disappointment
---
Capital Skills Programs include: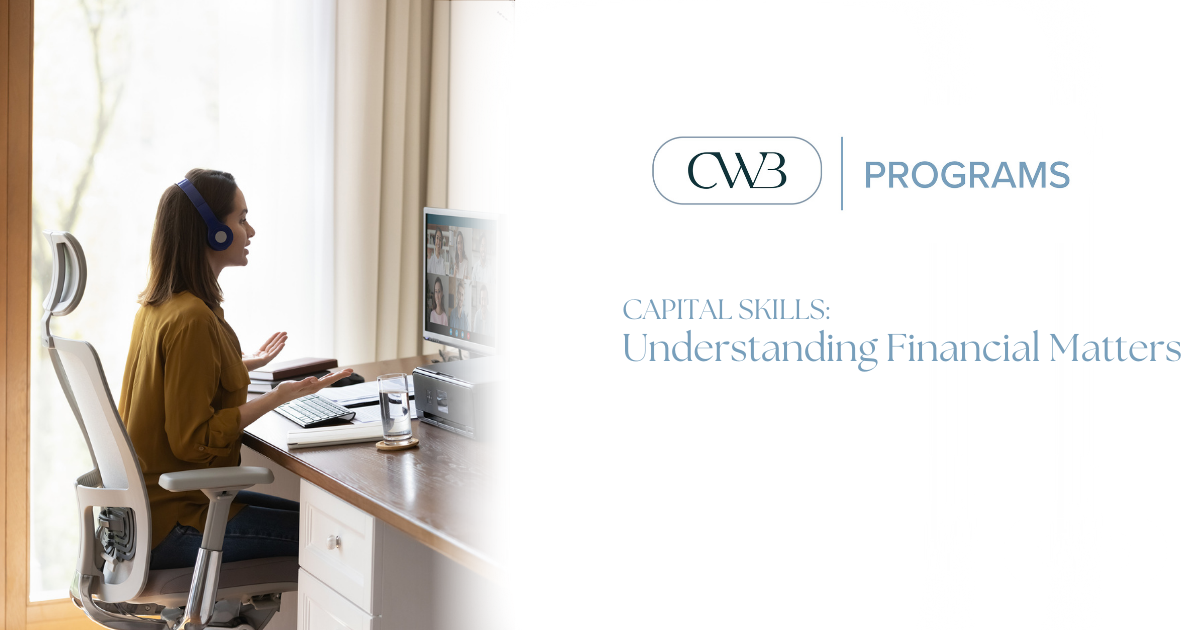 Understanding Financial Matters for your Business
Having an understanding of where your money is coming from and how you spend it is important to the success of your business.  What does it mean when you are asked to provide financial statements? What do they look like and how do you use them to check on how your business is doing financially.
Outcomes:
In this course you will learn basic financial terminology and how all this fits into your financial statements. Topics will include how to track cash flow, develop your pricing, and how to talk to your banker or investor, setting up a business bank account and options for borrowing money.
You will be supported through the program by Debi who has many years of experience teaching and supporting businesses at all stages and also with coaches to support you as you learn.
Virtual delivery: Debi Peverill, CA; owner of SBR Communications
Date options:
Cohort One: FULL
Tuesday, February 14 – 9am-12pm
Thursday, February 23 – 1-4pm
Thursday March 2 – 9am-12pm
Thursday March 9 – 9am-12pm
Cohort Two: FULL
Friday March 3 – 9am-12pm
Friday March 10 – 9am-12pm
Friday March 17 – 9am-12pm
Friday March 24 – 9am-12pm
---
Writing A Winning Proposal
 The Writing a Winning Proposal Training guides participants through the process of building a proposal to sell their goods and/or services. A proposal is often the first impression that an organization (public and/or private) gets from a prospective client. Whether it is through a request for proposal (RFP), request from quotation (RFQ), and/or a standing offer, the businesses should be able to prepare a solid proposal that stands out from the competition and increases their chance of success. This practical, how-to course develops the participants' ability to identify and assess procurement opportunities as well as what are the best practices of proposal writing.
Outcomes
Learn basics concepts of the procurement process
Understand where and how to find relevant RFPs
Determine if you should bid an RFP or not
Write competitive and successful proposals (technical and financials)
Leveraging your resources (example: teaming agreements, strategic alliances, and joint ventures)
Virtual Delivery: Pernille Fischer Boulter, Kisserup International & Maria Calcano, Kisserup International
 Dates: Tuesdays and Thursdays beginning February 21st to March 9th, 9:00-11:00am – with follow up coaching appointments. 
 Space is limited to 15 participants and is now full.
---
Pitching Your Business
Understanding how to talk about your business and ask for funding is crucial to business growth.
The Fundamentals of OPM (Other People's Money) and Choosing the Right Capital Source for Your Business: What are the 8 most common sources of capital and which capital source works best for you and your business. You will identify the single best source of capital for your company NOW…which means you will know WHO to pitch to, and how to tailor your pitch.
The Fundamentals of WIIFM (What's In It For Me): Participants will learn how to POSITION THE OPPORTUNITY, POSITION THE ASK and POSITION THE PROOF
Making the Ask– you will draft a simple, 5-10 minute pitch; have the opportunity to practice the pitch and receive customized 1:1 feedback on their pitch.
Reverse Shark Tank – A panel of luminaries and experts – themselves Racialized Canadians – who will provide feedback BUT ALSO share expertise and insights for the possibilities and opportunities they see in each participant's pitch and business. As a result, each woman gets insanely valuable insight to not only help her improve her pitch, but to inspire her to think EVEN BIGGER about what's possible. This addresses a key barrier to accessing capital…a lack of access to power networks.
This program is for those new to business and those focused on business growth. You will have some reading and homework throughout the program and will be provided with a copy of the Pitch for Profit workbook.
Only 30 spaces available!
The Pitch Your Business program will be delivered virtually and features hands-on learning
Instructor: Eleanor Beaton is the founder and CEO of SafiMedia, an education and coaching company for women entrepreneurs. Eleanor has been recognized nationally and globally for her work as a women's leadership expert, business coach, and writer.
Dates: Choose from one of two cohorts:
Cohort one – FULL
Develop Your Pitch – Monday March 6, 9:30am – 3:30 pm
1:1 personalized feedback and coaching between March 8-March 22 at times ideally suited to the participants.
Reverse Shark Tank – Friday March 24, 10am-12pm
Cohort two: FULL
Develop Your Pitch – Tuesday March 7, 2023 12:00-5:00 pm
We'll do our 1:1 personalized feedback and coaching between March 8-March 22 at times ideally suited to the participants.
Reverse Shark Tank – Friday, March 24, 2023 1pm-3pm
---
Blueprint for Success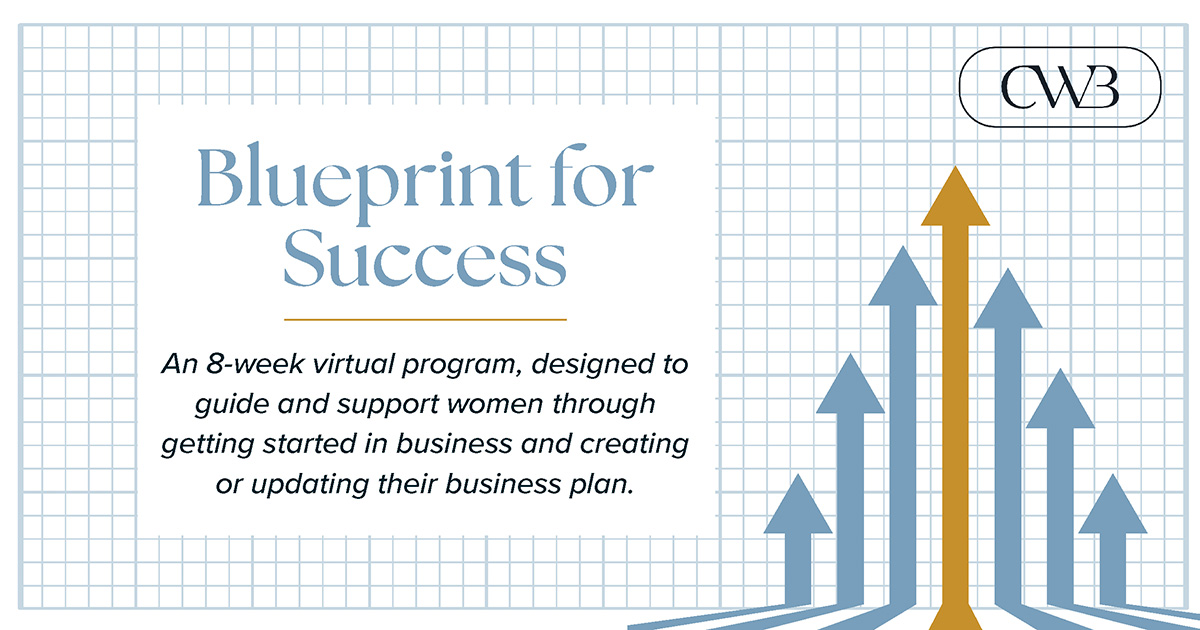 Our Blueprint for Success business planning program is designed to guide and support women through getting started in business and creating or updating their business plan. This eight-week, virtual program includes modules on developing your idea, market research, financial planning, marketing, operations, and more.
As part of our Blueprint for Success program, you will have access to:
information and resources to start, launch, and grow your business
a collaborative group of women in the same business stage you are
one-on-one support from our experienced business advisor facilitators
dedicated time to spend on business planning and working towards your business goals
week-to-week and ongoing accountability from facilitators and peer group members
We are offering three cohorts:
1. Blueprint for Success – facilitated by Tia Upshaw,  serial entrepreneur & CEO of BWIE
Virtual Delivery: Mondays, January 30th– March 28th, 7:00-9:00pm
Note: no classes will be held on February 13
Priority for this delivery will be given to Black women entrepreneurs
Course is full. To be put on a waitlist please contact Nora Perry at nora.perry@msvu.ca.
---
2. Blueprint for Success – facilitated by Darlene Duggan, owner of Darlene Duggan of Duggan International Group
Virtual Delivery: Monday, January 30th – Monday March 27th, 6:00-8:00pm
Note no class on February 20th , 2023
Course is full. To be put on a waitlist please contact Nora Perry at nora.perry@msvu.ca.
---
3. Blueprint for Success – facilitated by Eileen Paul, Indigenous Entrepreneurial Facilitator
In-person delivery: Membertou Entrepreneur Centre
January 31st to April 2nd, 5:30pm to 7:30 pm
Priority for this delivery will be given to Indigenous women entrepreneurs
Course is full. To be put on a waitlist please contact Nora Perry at nora.perry@msvu.ca.
If you require support completing the registration or deciding which cohort is best for you please contact Katy Baker, Project Manager: katyobaker@gmail.com