Denise Williams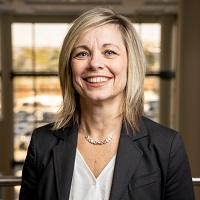 NS Project Coordinator, Atlantic Canada Women in Growth Partnership (ACWGP)
902.237.7715
denise.williams@msvu.ca
Denise is the Nova Scotia Project Coordinator for the Atlantic Canada Women in Growth Partnership (ACWGP). Denise will work with women entrepreneurs in trades, technology and STEM related fields, as well as Indigenous women, new immigrants, women with disabilities and women in rural areas that are starting businesses.
Denise has worked as an independent consultant and educator for over 25 years. She has worked with local, national and international companies and diverse industries, helping them identify plans to successfully grow their businesses. Denise is a strong advocate for finding ways to incorporate technology and innovation into business growth, and believes that the opportunities for women today are endless with increasing globalization and export development.
As a small business owner and growing up in rural Newfoundland, Denise understands the barriers that many women entrepreneurs face. She believes that connecting like-minded entrepreneurs that are willing to share their skills and ideas are one of the best ways to reduce the effects of working in isolation.
Denise holds a Bachelor of Arts in Adult Education from Memorial University in Newfoundland (MUN), a Master's of Business Administration (MBA) from the University of Guelph, and a Certificate of Leadership from the National Association of Colleges and Employers (NACE). She has taught business courses at Mount Saint Vincent University and the College of the North Atlantic, and delivered customized business training in rural communities.
Denise enjoys running, travelling to unique destinations and trying new experiences. She is an outdoor adventurer, no matter the sport. She is passionate about bringing her community together to share food, experiences and culture. Denise loves spending time with her family and very active Nova Scotia Ducktoller, Cali.