Courtney Schmidt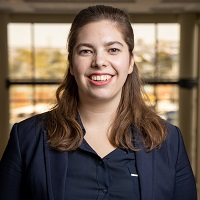 Cape Breton Business Advisor
902.217.2660
courtney.schmidt1@msvu.ca
Courtney is a commerce graduate from Saint Mary's University in Halifax with a double major in marketing and entrepreneurship and grew up in an agri-food family business. Her education focused on finance, accounting, structuring start-ups, family business, marketing, and entrepreneurship, many of which are areas businesses have questions about. Prior to joining the Centre in May 2019, Courtney worked specifically with businesses interested in or already exporting their products or services.
Fully bilingual in both business acronym-speak and English, Courtney can translate the mysteries of starting or growing your business or assist with proposal development. Courtney believes companies should be inspired and empowered to grow their business or enter new international markets, and the reality is…many entrepreneurs don't know what business support is out there. The Centre can help.
As a foodie and voracious reader, Courtney can be found in her hometown of Port Hood when she isn't traveling for a trade mission, meeting buyers or investigating a new market on her own time.
Learn more about the Centre for Women in Business in Cape Breton.